Project Lead the Way
In Partnership with the Minnesota Center for Engineering & Manufacturing Excellence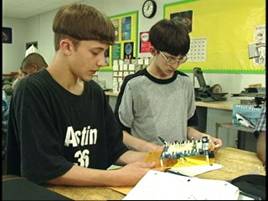 PLTW has developed a four-year sequence of courses which, when combined with college preparatory mathematics and science courses in high school, introduces students to the scope, rigor, and discipline of engineering and engineering technology prior to entering college.
The courses are:
Introduction to Engineering Design
Digital Electronics
Principles of Engineering
Computer Integrated Manufacturing
Civil Engineering and Architecture
Biotechnical Engineering
Aerospace Engineering
Engineering Design and Development
Introduction at this level will attract more students to engineering, and will allow students, while still in high school, to determine if engineering is the career they desire. Students participating in PLTW courses are better prepared for college engineering programs and more likely to be successful, thus reducing the attrition rate in these college programs, which currently exceeds 50% nationally.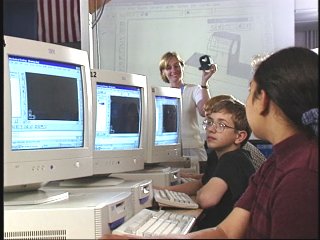 A critical component of the Project Lead The Way program is its comprehensive teacher training model. The curriculum these teachers are required to teach utilizes cutting edge technology and software requiring specialized training. Ongoing training supports the teachers as they implement the program and provides for continuous improvement of skills.
Understanding that another key to success is awareness, PLTW makes a concerted effort to inform school counselors through counselor conferences, brochures and videotapes about the benefits of the program, as well as the wide array of technology jobs and careers available to students who enter the field upon graduation from high school and college.
In addition, PLTW has developed an exciting Middle School Technology Curriculum: Gateway To Technology. This project-based, cutting edge curriculum is 40 weeks in length and is divided into four 10-week units from the following: Design and Modeling; The Magic of Electrons; The Science of Technology; Automation and Robotics; three new units in development: Environmental Engineering, Energy and the Environment, and Aerospace Engineering. Designed for all students, the units address national standards in math, science and technology. One of the goals is to increase interest and awareness of female and minority students in technology and related careers. Gateway To Technology will also encourage increasing numbers of students to elect the high school program.
Explore the following:
Are these really still gonna link to XLS's? seems kinda weird... I'm not gonna go throught he mess to upload and link them all quite yet.
MN Science and Math Academic Standards: Crosswalk to Project Lead the Way (PLTW) Course Outcomes (Summary and Standards)
Minnesota Science and Math Academic Standards Crosswalk to Project Lead the Way (PLTW) Course Outcomes (Standards and Analysis)
Project Lead the Way Biomedical Program for Minnesota Schools
Aerospace Engineering
Biotechnical Engineering
Civil Engineering and Architecture
Computer Integrated Manufacturing
Digital Electronics
Engineering Design and Development
Introduction to Engineering Design
Gateway to Technology
Principles of Engineering